New Life Furniture Bank
Greater Cincinnati's ONLY Furniture Bank
COVID-19 UPDATE - April 3, 2020
New Life Furniture Bank suspends furniture donation pick-ups and deliveries for 2 weeks effective Monday, April 6.  New Life Furniture Bank will suspend furniture donation pick-ups and deliveries for two weeks in response to the COVID-19 outbreak and expected peak. The health, well-being and safety of our families served, donors, volunteers, and staff continue to be our top priority.
While we are considered an "essential human service" during the State's Stay at Home Order, we believe it is in the best interest of our community, clients, and staff to STAY HOME and do our part to "flatten the curve", reducing the spread of this devastating virus. Our hope is to resume "No Contact Services" on April 20th but we will continue to follow Local, State and Federal guidelines regarding reinstating these services.
Our goal is to serve our most vulnerable populations in a time of crippling need, and we are committed to doing so the best we can in these challenging times. The social service agencies we partner with are working on the front lines of caring for families that are….and will be for quite some time…devastated by the economic impact of COVID-19. We anticipate a higher request for our services over the next few months and your furniture donations and financial support will be critical to our
capacity to serve those in need. PLEASE consider making a financial contribution to support our mission today.
TO SCHEDULE A PICK-UP AFTER APRIL 20TH call 513-313-0530 or email info@nlfurniture.org. NOTE: Our offices are closed, and the administrative staff is working from home. PLEASE leave a message and we will return your call as soon as possible. For everyone's safety, the following changes have been made to our operations and "No Contact Services" will be offered:
1. For donors requesting a furniture pick up, items MUST be placed on a covered porch, in the garage, or outside the home in a hallway.  We will not enter your home. If you are unable to do so, we ask that you check back with us at the end of April or May to schedule a pickup.
2. We have suspended all group volunteer activities, events, and tours in our warehouse until the end of April. We will take extra steps to ensure that our volunteers and staff are provided a clean, safe working environment to continue our service to the community when we re-open.
3. When services resume, we will continue to work with our partnering agencies to minimize staff/client exposure and adjust our delivery procedures as needed. For more information, contact Client Services Coordinator, Jill Keefe at 513-313-0530 or jill@nlfurniture.org
4. Our offices are closed to the public and we are not accepting donations at our Blue Ash warehouse at this time. Our administrative staff is working from home and will answer your emails and calls as soon as possible and notify you of any additional changes in our services or operations.
We appreciate your understanding and support as we all do our part to care for each other and those in our community. Please monitor our website for any additional updates.
Thank you for your support!
Dana Saxton
Executive Director
"We cannot control the wind, but we can adjust our sails" Dolly Parton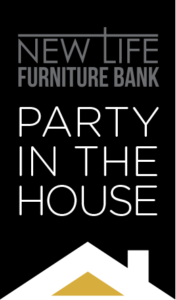 Party in the House 2019 raises over $42,000 to help families in need – HELP US REACH OUR GOAL to furnish 100 homes.
Recent Posts from our Blog
On December 12th, partnering agency, Mercy Health, gathered their Leadership Development Institute (LDI) employees and donated their time at...

Party in the House Design Challenge Spotlight: DIGS|Real Estate|Design|Construction| Designers Brian Gibson and John Harrison are feeling fanciful and...

Party in the House Design Challenge Spotlight: Dwellings on Madison Our friends Grace Jones and Jeff Geoberti from Dwellings...
We provide gently used furniture to people
overcoming homelessness, domestic abuse,
extreme poverty, or other devastating circumstances.
It takes a village! Learn more about how you can make a difference in your community by volunteering.  Many opportunities are available for individuals and groups.
Be A Volunteer
New Life Furniture in the News…